Volunteer Program and Tour at Wildlife Rescue Center in Costa Rica
Central America » Costa Rica » Northern Plains » La Fortuna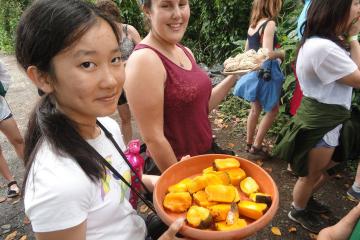 (5.0)
Duration: 3 hours
Departs: La Fortuna, Costa Rica
Price from USD 51.00
Book Now
This tour is a once-in-a-lifetime experience and educational opportunity for you to learn about Costa Rican wildlife while volunteering. It takes place at a Wildlife Rescue Center close to La Fortuna. It is the perfect activity for individuals, couples, families and groups. Volunteer and have fun as you see and interact with wild animals.
The tour starts at the wildlife rescue center in the morning or afternoon (depending of your option selected). You would be given an introduction about the Wildlife Rescue Center and then it's time for the 3-hour tour and volunteer program to begin.

A guide will lead you to visit the facilities where the animals are. There, you will have a chance to know each animal and learn why they are here. You will be allowed to pet some of them and to take photographs.

After this, there will be a coffee break (including exotic fruits, juice and coffee); and then the volunteering activities will begin. These activities include working directly with the animals and helping with their care. You will have a chance to prepare their food, feed them and even repair some of the enclosures.

This is a wonderful opportunity to be an active participant in the caring of wild animals and learn about the importance of conservation.
« All Activities