Whitewater Rafting on the Pacuare River in Costa Rica
Central America » Costa Rica » Central Valley » San Jose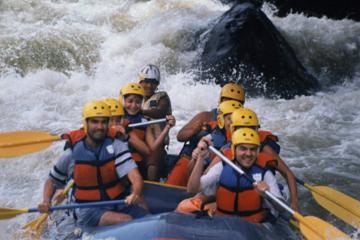 (5.0)
Duration: 11 hours
Departs: San Jose, Costa Rica
Price from USD 99.99
Book Now
Experience the adrenaline-charged thrill of whitewater rafting on the Pacuare River! The scenery while rafting is simply unique. The tropical vegetation and power of the waters will transport you to a Central American fantasy world. This one-day adventure battling class III and IV rapids is an unforgettable Costa Rican experience not to be missed.
While in Costa Rica, head out rafting (approximately 3-4 hours) on this perfect tropical river, which due to its scenery and rapids has been declared one of the five best rafting rivers in the world. This is a trip of pure magic, unsurpassed beauty, wildlife and exhilarating fun.

The Pacuare River borders the Talamanca mountain range, home to native Cabecar Indians, jaguars, monkeys, sloth and an incredible variety of birds, butterflies and reptiles. Known as one of the most beautiful rivers in the world, you'll enjoy a day filled with adventure as you raft down the Pacuare River. You'll have time for a relaxing lunch, before heading out on the river again for the last leg of your whitewater rafting experience.
On your ride back to San Jose, you'll have the chance the take in the beautiful landscape around you in the Braulio Carrillo National Park.
« All Activities